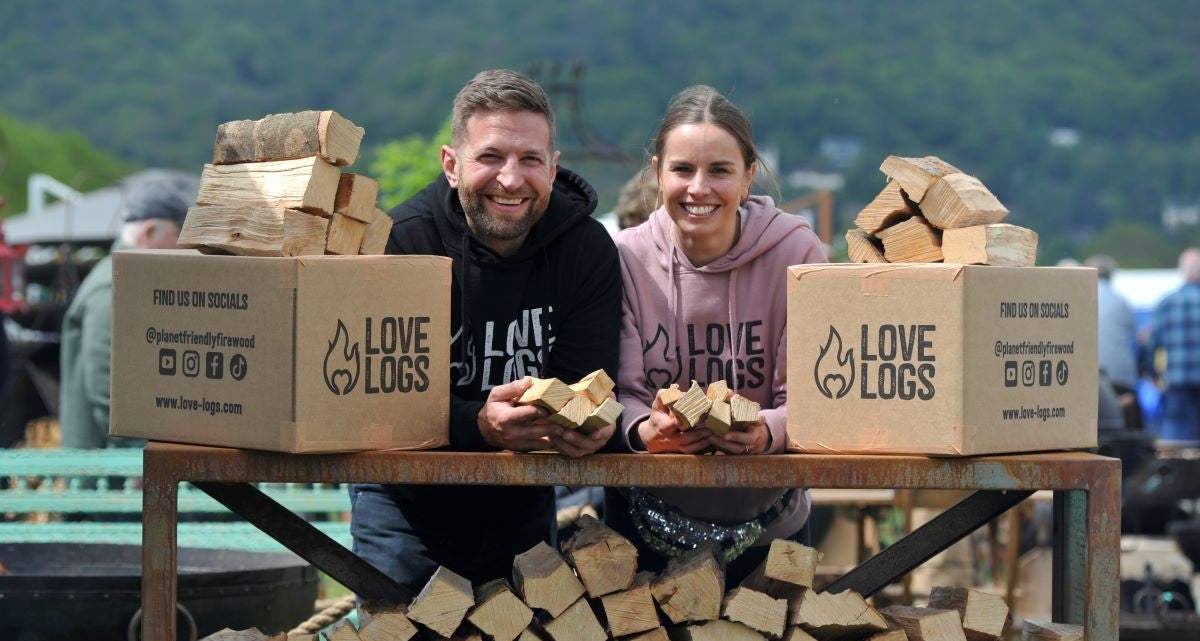 Hi there 👋👋👋
We're Heather and Paul, founders of Love Logs.
We live in the Midlands with our gorgeous rescue mutt, Jackson and we're passionate about the environment and all things food - especially wood fired pizza 🍕
We founded Love Logs in August 2020 after we bought firewood online for our new pizza oven. The buying and delivery experience was awful; we weren't convinced we were going to get the right product and we were horrified at the amount of plastic packaging. 
When it arrived, Paul spent every weekend splitting logs so they fit into our oven!
We'd moved into a house with a log burner a few months earlier and struggled with buying bulk loads of firewood, all of which were hard work and none of which were a consistent quality. 
As millennials who were used to buying anything we wanted online, we couldn't believe that nobody could offer us fast, free, high quality log delivery without plastic.
We started researching the industry and were gobsmacked to discover that more than 50% of the firewood and 95% of charcoal sold in the UK is imported, driven thousands of miles from Eastern Europe or brought on a ship from South America, when we have a thriving forestry industry right here. Madness!
We knew we could do it better, so we quit our jobs, taught ourselves how to run an online business and set out on a mission to drive change in the antiquated firewood industry.
Sustainability, quality and convenience are what we stand for. 
Quality
We're just like you – we want firewood and charcoal that is reliably and consistently great quality.
We screen the industry and work only with the most trustworthy producers who are as passionate about wood as we are, and able to guarantee a top-notch product every time.
Always a keen home cook, Paul is now a full-blown fire cooking fanatic, obsessed with trying out every pizza oven, barbecue, fire pit and grill you can imagine, so that he can ensure our ever-growing product range is perfect for whatever appliance you're using it in!
Convenience
We think buying firewood online should be just as easy and convenient as buying your clothes or groceries - nobody wants to wait in all day to have a bulk load dumped on their driveway!
We make it simple for you to order, with dedicated fuel so you know exactly what to buy for your pizza oven or wood burning appliance. 
We offer free next day delivery when you spend over £25 and our super-slick subscription service allows you to set up a regular delivery and cancel at any time.
Sustainability
We're genuinely passionate about the environment. We aren't perfect but we make the most sustainable choices wherever we can in our daily lives, and we pledged to do the same with Love Logs. 
We make decisions based on the most sustainable option, not the most profitable.
Every order contributes to the future of woodland here in the UK, while also funding the reforestation of areas in the world where deforestation has caused poverty. 
And we don't use any plastic. At all. Ever.
Over the last three years, we've been overwhelmed with how many of you have given us a chance and been prepared to pay a bit more for a top quality, sustainable product.
Some of our proudest achievements so far are:
🌳 Planted nearly 50,000 trees 
🏆 Won Start up of the Year 2021 and Digital Business of the year 2022
🌟 Over 1,600 5-star reviews
We estimate that we've fuelled:
🔥 Over 100,000 cosy nights in
🍕 Over 500,000 pizzas
🍖 Over 50,000 BBQs
(as of October 2023)
We've also seen more established firewood companies following our lead by offering their own plastic free options and talking more about sustainability, with one even copying our tree planting pledge.
We love being the driving force behind this industry-wide change and want to encourage more companies to go even further!